NeLL Digital Health & Care Symposium | November 27, 2020
6 november, 2020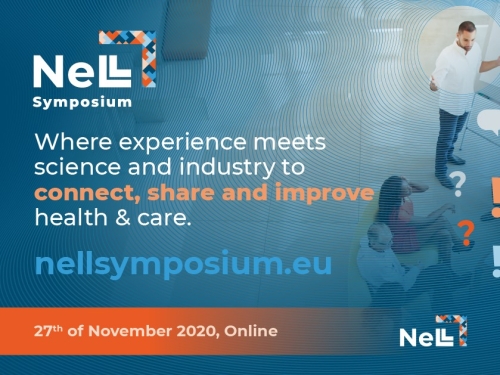 This first edition of the international fully digital symposium on digital health, organized by The National eHealth Living Lab (NeLL) and LUMC Campus The Hague will be held on the 27th of November 2020.

Connect, share and improve healthcare
This international symposium will contribute to the development of tomorrow's health and care. This symposium will invite you to get inspired, to participate in discussions and share your ideas. Meet new people, broaden your network and connect; all with the same goal: improving healthcare. Together we share knowledge to empower the patient. Committed to create sustainable, inclusive, and patient centered care through the use of (blended) digital health and co-creation.
NeLL and LUMC Campus The Hague aim to connect (healthcare)professionals, academics, students and start-ups from all over the world to share ideas, insights and experiences, to work together on the world-wide adoption of smarter, better, inclusive, and digital person centered health and care.

Click to order your tickets here
A selection from the program:
- Herko Coomans, International Digital Health coordinator, Ministry of Health, Welfare and Sport.
- Reon Brand, Senior Director: Foresight, Trends and People Research, Philips Design | Co-Emerging Futures.
- Owen Johnson, Senior Fellow - School of Computing, University of Leeds | AI and patient safety.
- Marleen Stikker, CEO Waag - about ownership of data and responsibilities of patients and healthcare professionals.
- Prof. Kendall Ho, Professor of Emergency Medicine & Academic Director Cloud Innovation Centre, University of British Columbia | Patient centered clinical applications in digital health.
- Prof. Niels Chavannes, Full professor of Public Health & Primary Care Medicine and Founder of NeLL.

Besides inspirational talks, and a provocative panel discussion a variety of interactive breakout sessions will be hosted.

Chair(wo)men of the day is journalist Eva de Valk.
We hope you can join this first edition of the NeLL Digital Health & Care Symposium!

Click to order your tickets here